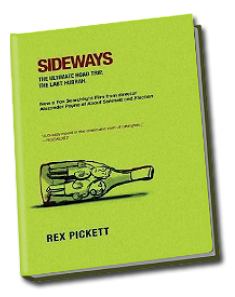 Sideways 10th Anniversary Edition by Rex Pickett
Sideways is the story of two friends-Miles and Jack-going way together for the last time to steep themselves in everything that makes it good to be young and single: pinot, putting, and prowling bars. In the week before Jack plans to marry, the pair heads out from Los Angeles to the Santa Ynez wine country. For Jack, the tasting tour is Seven Days to D-Day, his final stretch of freedom. For Miles–who has divorced his wife, is facing an uncertain career and has lost his passion for living-the trip is a weeklong opportunity to evaluate his past, his future and himself.
A raucous and surprising novel filled with wonderful details about wine, Sideways is also a thought-provoking and funny book about men, women, and human relationships.



Vertical: Passion and Pinot on the Oregon Wine Trail by Rex Pickett
Love Sideways: Ready to go Vertical?
From the author of the world's most beloved wine novel comes the 2016 Sideways sequel:
Vertical: Passion and Pinot on the Oregon Wine Trail
"Proof that sometimes the sequel is as good as—sometimes better—than the original."
Michel Totten, Author of Where the West Ends
"Rex Pickett has not let us down. Welcome to Oregon Miles and Jack!"
Karl Klooster, Oregon Wine Press
Its ten years later and thee two in the road buddies—Jack, now divorced and Miles, dealing with new found fame as a writer—reunite and travel to Oregon's famed Pinot Noir country to the International Pinot Noir festival. Unable to keep it simple, Miles steals his septuagenarian mother away from senior housing prison, which means bringing her pot smoking caretaker as well. Not only do Miles and Jack find themselves in troubled, new relationships and almost unfathomable hilarious situations, but they confront sobering challenges of being over 40—and looking at 70. All of this set up in the heart-stoppingly, wine rich beautiful landscape of Oregon's own Burgundy country. As one wine critic wrote, "If you like Sideways, you will love Vertical.