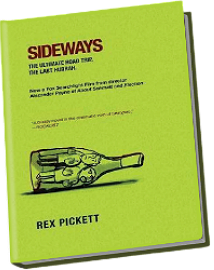 Sideways by Rex Pickett
Sideways is the story of two friends-Miles and Jack-going way together for the last time to steep themselves in everything that makes it good to be young and single: pinot, putting, and prowling bars. In the week before Jack plans to marry, the pair heads out from Los Angeles to the Santa Ynez wine country. For Jack, the tasting tour is Seven Days to D-Day, his final stretch of freedom. For Miles–who has divorced his wife, is facing an uncertain career and has lost his passion for living-the trip is a weeklong opportunity to evaluate his past, his future and himself.
A raucous and surprising novel filled with wonderful details about wine, Sideways is also a thought-provoking and funny book about men, women, and human relationships.



Vertical By Rex Pickett
The follow-up novel to the blockbuster Sideways tracks the continuing story of Miles Raymond and his buddy Jack. It's seven years later. Miles has written a novel that has been made into a wildly successful movie, and the movie has changed his life. Jack, contrarily, is divorced, has a kid, and is on the skids. Phyllis, Miles's mom, has suffered a stroke that's left her wheelchair-bound and wasting away in assisted-living. She desperately wants to live with her sister in Wisconsin. When Miles gets invited to be master of ceremonies at a Pinot Noir festival in Oregon, he hatches a harebrained road trip. With Jack as his co-pilot, he leases a handicapped-equipped rampvan, hires a pot-smoking Filipina caretaker and, with his mother's rascally Yorkie in tow, they take off for Wisconsin via Oregon's fabled Willamette Valley, where Miles is Master of ceremonies of the International Pinot Festival. It is a road novel for the smart set and wine lover, and anything but predictable.